Enhance the competitiveness of enterprises in plastic
On 28/9, representative bodies of MOST in collaboration with HCMC HCMC Plastic Association and plastics Technical Center held a seminar in HCM City "Applied research MOST effective solution to improve competition from plastic enterprises ".
Experts assess: Vietnam's plastics industry is growing, among countries with growth of the plastics industry the best in the world, occupying most of the domestic market and gradually boost exports. However, the biggest challenge for Vietnam's plastic industry is now the actual capacity is still low compared to the plastic industry of the country in the world and in the region. Imported raw material to 85%, equipment, molds have largely imported from abroad, technicians and skilled workers are lacking. In particular, the application of science and technology in production and business of enterprises is still limited.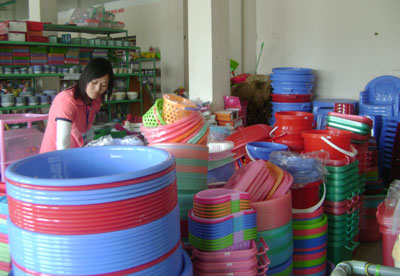 In the future, the plastics industry is expected to continue with high growth in revenues and profitability, and opportunities to continue to grow but there will also be strong segmentation. Businesses have the right strategy, investment and science and technology improvement product segments with high competition will exist, whereas the outdated technology businesses will be hard to compete.
Pham Ngoc Minh, deputy head of the representative mission of MOST in HCM City said: Most enterprises are not interested and not active in research, technology development, product development and services to improve productivity, quality and business efficiency. Besides, high-quality human resources capable of mastering science and technology in the enterprise is very low, only accounting for 7.25% of labor force. This is one of the factors that reduce the competitiveness of enterprises.
Currently, the majority of our enterprises are using outdated technologies ranging from 2 to 3 generations than the world's average. Machinery and equipment are used in only 10% now modern, average 38%, 52% is outdated; who used high technology, only 2% (this percentage is 31% in Thailand, 51% of Malaysia, Singapore is 73%). Therefore, the next time businesses need to strengthen science and technology applications in manufacturing, business to ensure sustainable development and in accordance with the process of international economic integration.